Bangladeshi Newspapers and Bangla News Sites
List of Bangladeshi newspapers and Bangla news sites including Bangladesh Pratidin, BD News 24, BD 24 Live and Bangla News 24. Regional Bangla newspapers are sorted by cities.
Bangla Newspapers
Despite the growing popularity of Bangladeshi news websites, Bangla newspapers print versions are highly trusted. Following is a list of Bangla newspapers.
Bangla News Sites
In Bangladesh there are thousands of Bangla news sites constantly providing updated news and information. bdnews24, bd24live, banglanews24 and banglatribune are the largest Bangla news sites.
Regional Newspapers in Bangladesh
Most of the national daily newspapers in Bangladesh are published in Dhaka. Other big cities including Chittagong, Sylhet, Rajshahi, Khulna and Comilla also published few daily newspapers. However almost all other cities have at least one local print newspaper as well as Bangla news websites. A local or regional newspaper serves a region and plays an important role in the local communities.
Bangladeshi Newspapers in English
During the past three decades, the number of English-language newspapers in Bangladesh has been increasing because of literacy and economic growth. Regular sections of the newspapers are opinion/editorial, politics, business, sports, education, and entertainment.
BD News Agencies
See also
Kolkata newspapers
back to top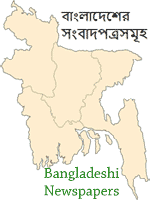 Read latest BD news from following news sites:
Bangla radio channels
Daily Star, New Age, and Independent are top selling English-language newspapers in Bangladesh.
Alpha Net
Best Web Hosting in Bangladesh. High performance VPS & Dedicated Servers.